Back to news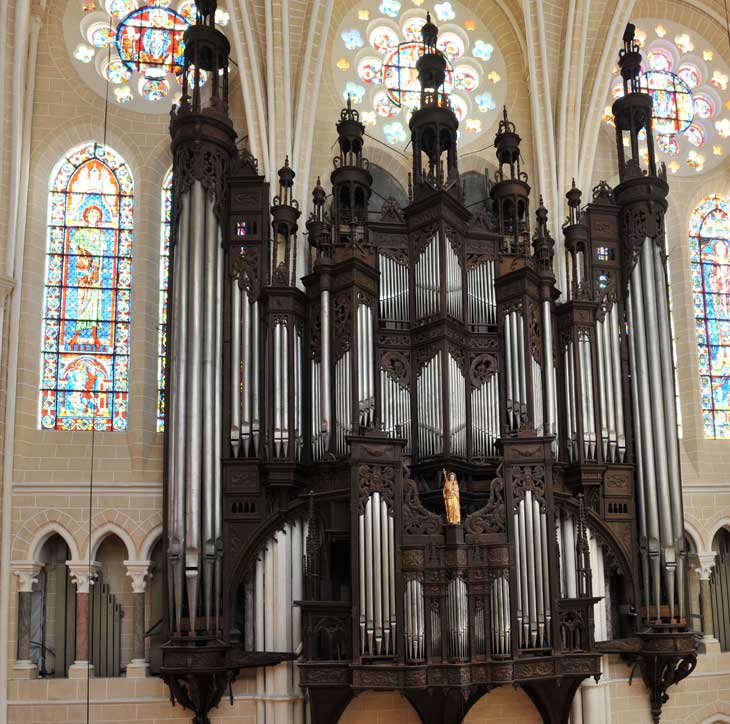 Sixteen concerts on the great organs this summer!
Tue. 1 Jun. / Évènements
For their last summer season before total reconstruction, the great organs will fill the vaults of the cathedral with their breath… No less than sixteen concerts are scheduled this summer by the association des grandes orgues de Chartres : eight on the occasion of the 47th International Organ Festival (every Sunday at 4:30 pm), and eight others for the Soirées Estivales (Thursdays at 9 pm).
You can find the complete program on the website of the Association des grandes orgues – subject to sanitary evolution.
The 'grand Danion-Gonzalez' will then retire this autumn, to be replaced by a brand new instrument which should be in operation three years later.
The great organ of the cathedral had already been rebuilt and modernized in 1970, more than half a century ago, at the initiative of Pierre Firmin-Didot (1921-2001). The modern materials used at that time, combined with new electrical systems, have not stood up well to the wear and tear of time: the mechanical and electrical parts are now heavily worn and damaged, making this reconstruction necessary.
The program of work is very important, and includes the restoration of the historical case (Robert Filleul, 1542) as well as the total reconstruction of the interior of the instrument. Delayed by the sanitary situation, the launch of the work is planned for this autumn for this project of exceptional scope in France, decided by the State and supported by the association of the great organs of Chartres: the new instrument will resound in 2023-2024.
It should be noted that during this work and for its next summer seasons, the association of great organs will maintain its musical offer at the cathedral (instrumental and vocal ensembles, soloists…) and also at the church of Saint Aignan (organ concerts).