Tours for Individuals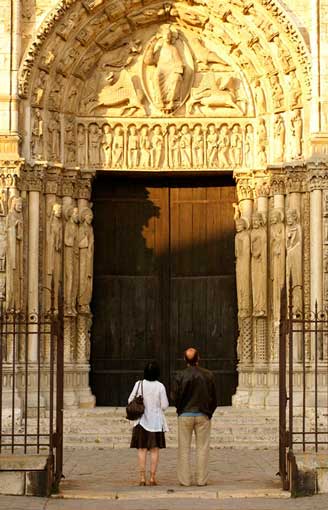 Cathedral (only) Tours
Proposed to all curious minds, pilgrims or simple tourists, it is a general discovery of the sanctuary. These tours are designed for those who wish to be informed about the history of the cathedral, from its creation to the most recent discoveries.
Be sure to acquire enough knowledge to know everything there is to know about this great place of Christianity!
WITHOUT BOOKING – 3:00 PM each day
(visit limited to 45 people)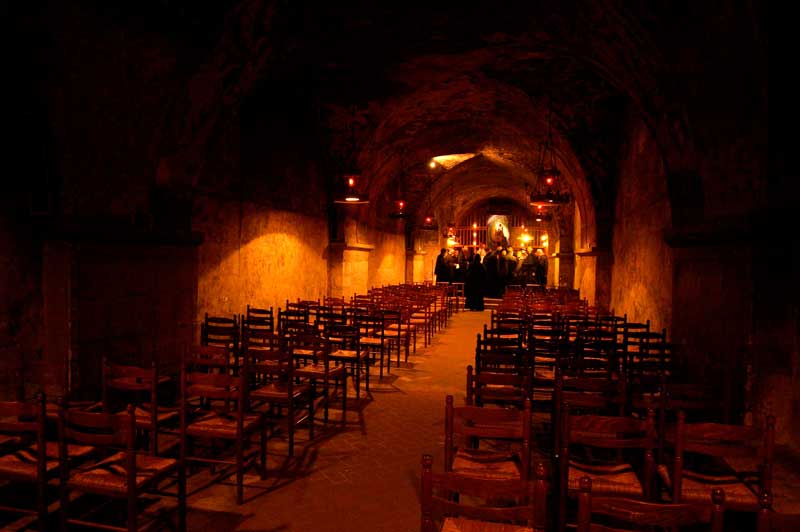 Crypt (only) Tour
The Romanesque crypt should not be missed for visitors wishing to understand the countless mysteries surrounding Chartres Cathedral. Guides from the Cathedral's Visitor Service will give you the key to understanding many of its secrets…
Mystical space, where you will observe Our Lady of the Crypt and understand the legends surrounding it. You will be enthralled by other treasures, and quickly understand that the crypt is the point of origin for all of the mysteries inhabiting Our Lady of Chartres…
Please note: access to the crypt is only possible with a guided tour.
WITHOUT BOOKING (visit limited to 38 people)
2:00 PM each day
3:30 PM Fryday to Sunday & public holidays
Visit in French, a form in English or another language will be proposed to you.
Read more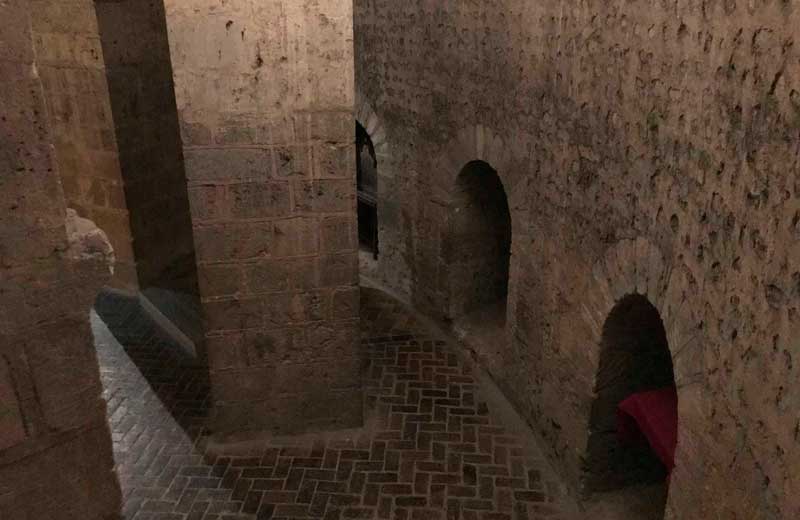 Cathedral AND Crypt Tours in English and Other Languages
The Cathedral's Visitor Service offers a comprehensive tour of the cathedral and crypt in English or other langages – on reservation only.
This is a unique opportunity to discover the secrets of this great Christian edifice where you will discover the cathedral's surprising history, from its origins to its most recent discoveries. You will be enthralled by the countless mysteries which have been enclosed in the cathedral.
INFORMATION
for the year 2023: contact the Visits Department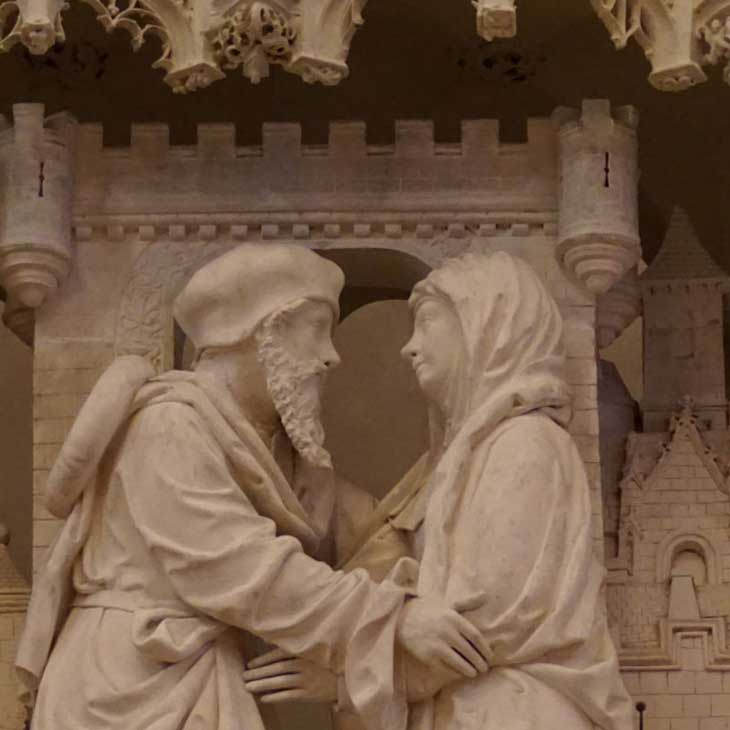 Tour of the choir: Commented reading
During this presentation by the Cathedral's Visitor Service, marvel at this exceptional sculptural ensemble, which took almost two centuries to complete, from 1516 to 1714.
The scenes depicted will plunge you into the heart of the story of Mary and Jesus, offering a captivating narrative through sculptures of great finesse. A gripping immersion in this sacred saga, not to be missed.
WITHOUT BOOKING
10:30 am Fridays June 2 to August 25
Commented reading in French only
Read more
Public tours in English are possible, from May 2 to September 30, Tuesdays through Saturdays (not during a religious celebration).
Meeting point at the information sign inside the cathedral.
Private tours are also possible : please contact the Cathedral 'Service des Visites'.
INFORMATIONS 2023
find below all our informations for "individual" visits
FOREIGN LANGUAGE TOURS - for individuals

GUIDED TOUR CATHEDRAL : 12 noon, from Tuesday through Saturday (from May 2 to September 30)
Duration 1h15
Information
: contact the Visits Service on (+33) 2 37 21 75 02 or by
e-mail
N.B. : For public visits, no reservation is possible. Tickets can be picked up on site, in front of the Shop located on your left as you enter the cathedral.
And if you wish to follow a tour in French :
VISITES EN FRANÇAIS - individuels

Pour les visites publiques, aucune réservation n'est possible. Les billets sont à retirer sur place, à la Boutique, située sur votre gauche en entrant dans la cathédrale.
Visite guidée 'CATHÉDRALE' :
durée 1h30
Informations : contacter le Service des Visites au 02 37 21 75 02 ou par courriel
Visite guidée 'CRYPTE' :
durée 45 mn
Informations : contacter le Service des Visites au 02 37 21 75 02 ou par courriel
Tickets Duo – formule individuel
C'est une formule tout compris : avec les tickets Duo, cumulez la visite cathédrale et la visite crypte pour une échappée longue durée.
Visite guidée 'CATHÉDRALE & CRYPTE' (ticket duo) :
durée 2h15
Informations : contacter le Service des Visites au 02 37 21 75 02 ou par courriel
'TOUR du CHŒUR' - Lecture commentée :
durée 1h15 mn
Informations : contacter le Service des Visites au 02 37 21 75 02 ou par courriel