Tours for Individuals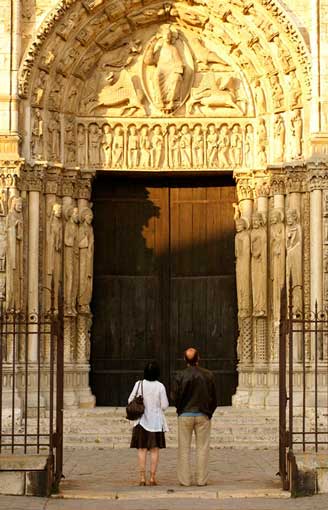 Cathedral (only) Tours
The Chartres Cathedral 'Service des Visites' offers a general discovery tour of the sanctuary to those with a curious mind, either pilgrim or tourist. They are destined to those who wish to be informed of the Cathedral's history, from the time of its construction to the latest discoveries.
Thanks to the tours of the cathedral, be sure to acquire enough knowledge to know everything about this great place of Christianity!
WITHOUT BOOKING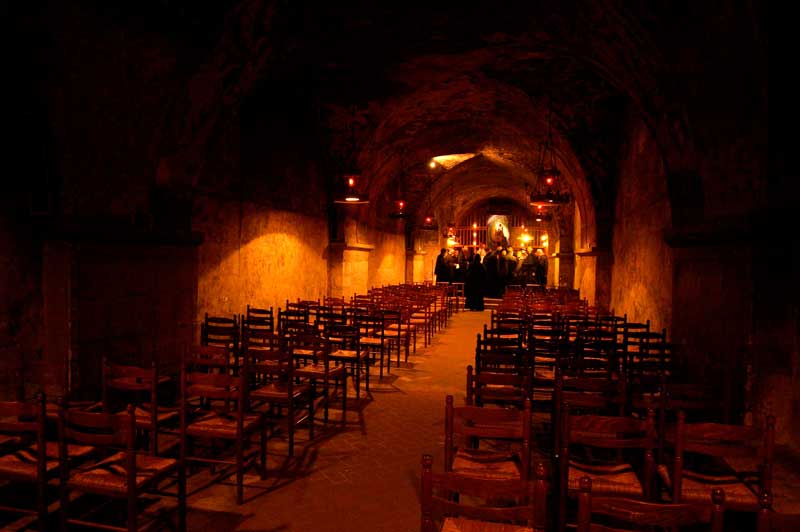 Crypt (only) Tour
The Romanesque crypt should not be missed for visitors wishing to understand the countless mysteries surrounding Chartres Cathedral. The Chartres Cathedral 'Service des Visites' guides will give you the key to understanding many of its secrets…
Mystical space, where you will observe Our Lady of the Crypt and understand the legends surrounding it.
You will be enthralled by other treasures, and quickly understand that the crypt is the point of origin for all of the mysteries inhabiting Our Lady of Chartres…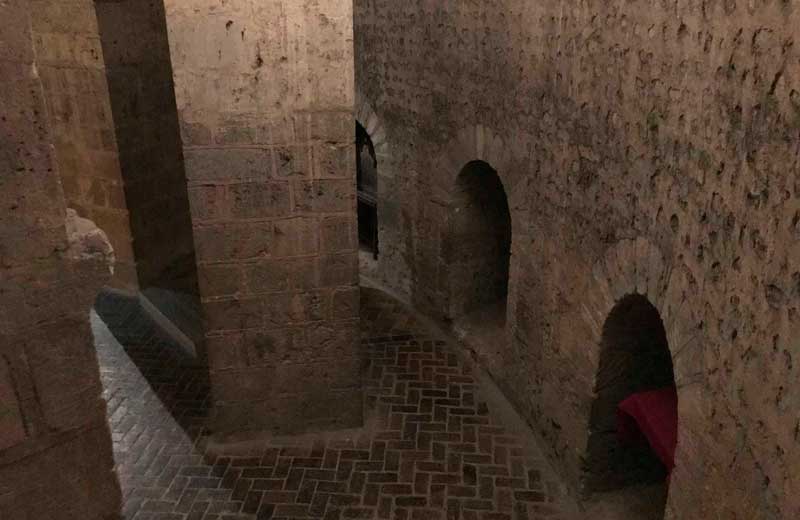 Cathedral AND Crypt Tours in English and Other Languages
From May through September, the Chartres Cathedral 'Service des Visites' offers a comprehensive tour of the cathedral and crypt in English.
This is a unique opportunity to discover the secrets of this great Christian edifice where you will discover the cathedral's surprising history, from its origins to its most recent discoveries. You will be enthralled by the countless mysteries which have been enclosed in the cathedral.
INFORMATION
for the year 2023: consult the agenda or contact the Visits Department
Public tours in English are back with Malcom Miller or Anne Marie Woods, from May 20th to mid September at 12 noon, Tuesdays through Saturdays (not during the second half of August, nor if there is a religious celebration).
12€ per person. Meeting point at the information sign inside the cathedral.
Private tours are also possible on request by contacting Malcolm Miller or Anne Marie Woods.
TICKET PRICES 2023
find below all our rates for "individual" visits
FOREIGN LANGUAGE TOURS - for individuals

rate 2023
CATHEDRAL : 12 noon, from Tuesday through Saturday
Duration 1h00
Full price 12 €
Reduced rate 1 6 €
1 Reduced rates for 'foreign language tours for individuals' are only available for children under the age of 13.
Reduced rate: Students, handicapped people with their companion, children from 10 years old (visits are free under 10 years old), religious people and pilgrims of st Jacques (on presentation of the credencial).
N.B. : For public visits, no reservation is possible. Tickets can be picked up at the Shop located on your left as you enter the cathedral.
Duo tickets – individual formula
It's an all-inclusive formula: with the Duo tickets, combine the visit to the cathedral and the visit to the crypt for a long escape.
And if you wish to follow a tour in French :
VISITES EN FRANÇAIS - individuels

tarification 2023
Visite guidée 'CATHÉDRALE' :
durée 1h30
Plein tarif 10 €
Tarif réduit 8 €
Visite guidée 'CRYPTE' :
durée 45 mn
Plein tarif 7 €
Tarif réduit 5 €
Visite guidée 'CATHÉDRALE & CRYPTE' (ticket duo)
durée 2h15
Plein tarif 15 €
Tarif réduit 12 €