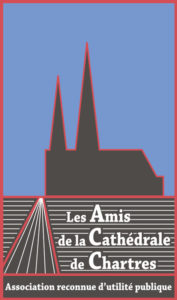 Creation: 1989
Objective: participate in the restoration, the conservation and the placement of value on the Cathedral of Chartres in partnership with the State.
Structure: association under Public Utility since 1998.
Financial Means: subscriptions (900 members), donations, legacy funds, enterprise sponsors.
Major Projects on January 1, 2021:
Restoration of 35 stained-glass windows (financed in part or in total).
Creation of the interior signage (indicating construction plans) in 2005.
Restoration of the mural décor in the Chapel of Martyrs.
Restoration of the cloister of the choir:
– First phase: from November 2015 to May 2016 ;
– Second phase: 2016 – July 2017 ;
– Third phase: 2018-2020 ;
– Fourth phase: in progress, end of restoration planned for 2022.
Commitments in progress:
– 7 stained glass windows of the transept.
– the closing of the choir.
Finances given: 3, 500, 000 euros, plus commitments and allocations.
Download a plan (pdf) of the major restorations carried out thanks to the financial support of the Friends of Chartres Cathedral and their patrons.
An example of the restoration: the Chapel of Martyrs