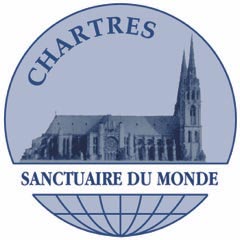 Association for safeguarding the Cathedral of Our Lady of Chartres
An association for general interest, without lucrative goals, Chartres Sanctuary of the World (CSM) was created in 1992 to contribute to the safeguarding of the Cathedral of Chartres and to serve its universal standing.
The association notably gave funds collected to contribute, besides the State, to the financing of the construction work. This was necessary for the multiple layers needing to be removed to clean the effects of centuries of pollution.
CSM works in collaboration with the regional conservation of Historic Monuments for the choice to finance the restoration work. This exemplary collaboration shows the ability of volunteers in the community in service to the State and equips the association for achieving the maximum goals in favor of safeguarding the artistic and spiritual standing of the sanctuary.
Within 15 years:
– Financing up to 50% of the restoration of 14 windows (5 in the ambulatory, 4 at the top of the choir, 5 lancets of the south transept) – 635.442 euros.
– Financing of the different organizations in the Cathedral (restoration of the choir organ, maintenance of the Main Altar at the cross of the transepts, signage, choir lighting) – 196.950 euros.
– Financing besides the Amis de la Cathedrale de Chartres in organizing the choir and the restoration of the south transept rose window – 107.849 euros (from CSM).
– Integral financing for the restoration of the interior décor of the axial chapel – 87.293 euros.
– Actions of awareness (publications, communications, creation and updates for the website, events, photography campaign) – 165.650 euros.
– Campaign for the organization of restoration work for the stained-glass windows of the Chapel of St. Piat.
An example of the restoration: the window of Saint Martin
Chartres sanctuaire du Monde:
Head Office: 16 cloître Notre-Dame – 28000 CHARTRES, France
Phone: permanence 06 08 03 72 48  et  06 43 08 74 75
Contact by email
Website : http://www.chartres-csm.org
To receive the LETTRE 2017 (articles, interviews, news, chances to donate…): click here.